>
}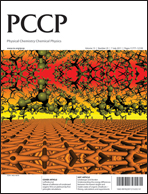 High quality research in physical chemistry, chemical physics and biophysical chemistry.
Paper
Internal structure, hygroscopic and reactive properties of mixed sodium methanesulfonate-sodium chloride particles
Y. Liu, B. Minofar, Y. Desyaterik, E. Dames, Z. Zhu, J. P. Cain, R. J. Hopkins, M. K. Gilles, H. Wang, P. Jungwirth and A. Laskin
Phys. Chem. Chem. Phys., 2011,13, 11846-11857
DOI: 10.1039/C1CP20444K
Received 20 Feb 2011, Accepted 19 Apr 2011
First published online 13 May 2011
Cited by

Compounds

Related Content

Metrics
This may take some time to load.
Physical Chemistry Chemical Physics - Information Point