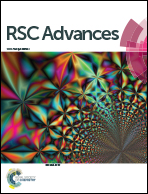 RSC Advances
An international journal to further the chemical sciences
Prev
Pg 1 of 1
Next
Jin-wei Ai, Wen Liao and Zhi-long Ren
RSC Adv., 2017, Accepted Manuscript
DOI: 10.1039/C6RA21648J, Paper

Expand
In this study, copper-loaded chitosan nanoparticle was prepared for the effective treatment of osteosarcoma. The particle size of copper-loaded chitosan nanoparticles (CuCNP) was in the range of drug delivery applications...
RSC Advances - Information Point
Citation velocity
Articles from this journal that are regularly and recently being cited by others. We are trialling this feature to see if it makes it quicker and easier for you to find articles for your research. Read more about how we have created this filtering system.