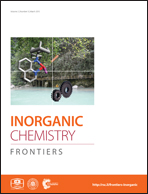 Impact Factor
Pending
12 Issues per Year
Free access available
Themed Collections

Most Read Articles
All Recent Articles

|

Advance Articles

|

Accepted Manuscripts
Prev
Pg 1 of 1
Next
Quan Xu, Hong Xu, Jiarui Chen, yunzu Lv, Chenbo Dong and T Sreenivasan Sreeprasad
Inorg. Chem. Front., 2015, Accepted Manuscript
DOI: 10.1039/C4QI00230J, Review Article

Expand
Advanced membrane system with excellent permanence is important for controllable separation processes such as gas separation and water purification. The ideal candidate materials should be very thin to provide high...
Mónica Lanchas, Sandra Arcediano, Garikoitz Beobide, Oscar Castillo, Antonio Luque and Sonia Pérez-Yáñez
Expand
Solvent-free synthesis under conventional oven and microwave assisted heating to provide multicomponent MOFs.
Dongwook Kim, Xinfang Liu and Myoung Soo Lah
Expand
MOFs of complicated topologies can be analyzed as networks having simple underlying topologies when the MOPs are considered as TBUs.
Jun-Liang Liu, Guo-Zhang Huang and Ming-Liang Tong
Inorg. Chem. Front., 2015, Advance Article
DOI: 10.1039/C5QI00004A, Research Article

Expand
A 1-D [MnIII3O] based magnetic chain material amazingly exhibits the coexistence of spin-glass, spin-canting, and metamagnetic behaviours as well as slow relaxation of magnetization under different applied magnetic fields.
Xiangye Liu, Wei Zhao, Houlei Cui, Yi'an Xie, Yaoming Wang, Tao Xu and Fuqiang Huang
Inorg. Chem. Front., 2015, Advance Article
DOI: 10.1039/C4QI00163J, Review Article

Expand
This review outlines the latest progress in perovskite-based solar cells, including device achievements and underlying insights and mechanisms of the perovskite materials.
Tapan K. Pal, Dinesh De, Subhadip Neogi and Parimal K. Bharadwaj
Expand
We describe a 3D flexible Gd(III)-coordination polymer, constructed from a linear carboxylate ligand, which shows reversible single-crystal to single-crystal "guest-responsive fitting" of the channels and carboxylate shift process, upon inclusion of aldehyde guests.
Juan Feng, Hongmiao Li, Qiuli Yang, Shi-Chao Wei, Jianyong Zhang and Cheng-Yong Su
Expand
A 2D framework with –P(O)Ph2 phenyl groups on the layer surface has been obtained, which shows remarkable dynamic sorption behaviours.
Xiuli Wang, Mao Le, Hong-Yan Lin, Jian Luan, Guo-Cheng Liu, Fang-Fang Sui and Zhi-Han Chang
Inorg. Chem. Front., 2015, Advance Article
DOI: 10.1039/C4QI00218K, Research Article

Expand
Ten metal–organic coordination polymers 1–10 based on semi-rigid bis-pyridyl-bis-amide ligands have been synthesized. The fluorescence sensing and photocatalytic properties of 1–10 have been investigated.
Yeong Hun Kim, T. Thao Tran, P. Shiv Halasyamani and Kang Min Ok
Expand
The IO3 groups in Na2Sn(IO3)6 are aligned in a parallel manner attributed to the six-coordinate Na+ cation, whereas the IO3 polyhedra in Cs2Sn(IO3)6 rotate with respect to Sn4+ due to the nine-coordinate Cs+ cation.
Wen-Yang Gao, Sathvik Palakurty, Lukasz Wojtas, Yu-Sheng Chen and Shengqian Ma
Expand
A porous MOF adapting a rare SBU with open metal sites dangled on cobalt trigonal prismatic clusters has been constructed based upon a custom-designed octacarboxylate ligand.
Inorganic Chemistry Frontiers - Information Point