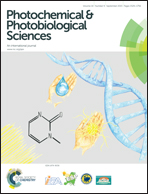 Photochemical & Photobiological Sciences
A society-owned journal publishing high quality research on all aspects of photochemistry and photobiology.
Impact Factor
2.267
12 Issues per Year
Indexed in Medline
This is a recently announced journal and there are no issues available yet. Content will appear here shortly and will be freely available to all for a limited time.
Register for free access and email alerts
Photochemical & Photobiological Sciences - Information Point
Related news
PPS is very proud to have supported the recent 1st Young Scientist Seminar on Scientific Research on Innovative Areas "Photosynergetics", 31st July - ...
EPIC - European Photonics Industry Consortium is the industry association that promotes the sustainable development of organisations working in the fi...