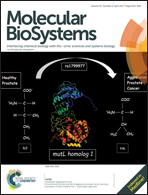 Molecular BioSystems
Research at the interface of chemistry and biology: chemical biology, -omics sciences and systems biology.
Prev
Pg 1 of 1
Next
Molecular BioSystems,
01 April 2017 , Issue 4,
Page 623 to 806
Molecular BioSystems - Information Point
Citation velocity
Articles from this journal that are regularly and recently being cited by others. We are trialling this feature to see if it makes it quicker and easier for you to find articles for your research. Read more about how we have created this filtering system.