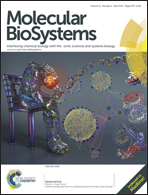 Molecular BioSystems
Research interfacing chemical biology with the -omic sciences and systems biology.
Impact Factor
3.183
12 Issues per Year
Indexed in Medline
Themed Collections

Most Read Articles
This is a recently announced journal and there are no issues available yet. Content will appear here shortly and will be freely available to all for a limited time.
Register for free access and email alerts
Molecular BioSystems - Information Point
Related news
A selection of conferences the journal will be attending in 2015. The Molecular BioSystems team will be attending a number of conferences in 2015 and ...
The following HOT articles have been highlighted by the reviewers of the articles as being particularly interesting or significant pieces of research....