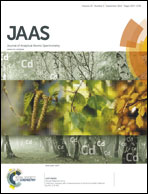 Journal of Analytical Atomic Spectrometry
Innovative research on the fundamental theory and application of spectrometric techniques.
Impact Factor
3.155
12 Issues per Year
Themed Collections

Most Read Articles
This is a recently announced journal and there are no issues available yet. Content will appear here shortly and will be freely available to all for a limited time.
Register for free access and email alerts
Journal of Analytical Atomic Spectrometry - Information Point