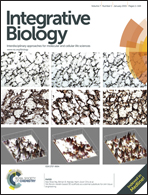 Integrative Biology
Interdisciplinary approaches for molecular and cellular life sciences
5 Year Impact Factor 4.455
12 Issues per Year
Themed Collections

Most Read Articles
This is a recently announced journal and there are no issues available yet. Content will appear here shortly and will be freely available to all for a limited time.
Register for free access and email alerts
Integrative Biology - Information Point
Related News
Article of the month for December , recommended by our referees, is free* to access for a limited time only! A biologically inspired lung-on-a-chip de...