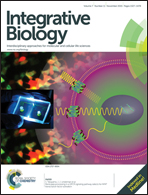 Integrative Biology
Interdisciplinary approaches for molecular and cellular life sciences
Impact Factor
3.756
12 Issues per Year
This is a recently announced journal and there are no issues available yet. Content will appear here shortly and will be freely available to all for a limited time.
Register for free access and email alerts
Integrative Biology - Information Point
Related news
Cancer themed issues across the Royal Society of Chemistry publications portfolio Cancer remains a devastating disease with 580,350 deaths and 1.66 mi...