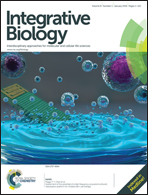 Integrative Biology
Interdisciplinary approaches for molecular and cellular life sciences
Impact Factor
3.756
12 Issues per Year
This is a recently announced journal and there are no issues available yet. Content will appear here shortly and will be freely available to all for a limited time.
Register for free access and email alerts
Integrative Biology - Information Point
Related news
Many congratulations to Bridget Watson , Maya Shamir and Adrien Chauvier on their poster prize success at the Regulating with RNA in Bacteria and Arch...
Scientists in Australia have made a portable device that gently vibrates stem cells with sound waves to turn them into an aerosol. The system could be...