Scheduled maintenance upgrade on Thursday, 18th of February from 10am to 12pm (GMT)
Please note that we will be performing a planned maintenance upgrade on Thursday 18th of February from 10am to 12pm Greenwich Mean Time. During this time you may experience an intermittent reduction in performance, with the possibility of our services being offline temporarily on our publishing platform . If you have any questions please use the feedback button on this page. We apologise for any inconvenience this might cause and thank you for your patience.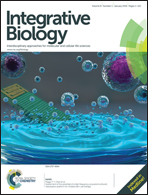 Integrative Biology
Interdisciplinary approaches for molecular and cellular life sciences
Impact Factor
3.756
12 Issues per Year
This is a recently announced journal and there are no issues available yet. Content will appear here shortly and will be freely available to all for a limited time.
Register for free access and email alerts
Integrative Biology - Information Point
Related news
Many congratulations to Bridget Watson , Maya Shamir and Adrien Chauvier on their poster prize success at the Regulating with RNA in Bacteria and Arch...
Scientists in Australia have made a portable device that gently vibrates stem cells with sound waves to turn them into an aerosol. The system could be...