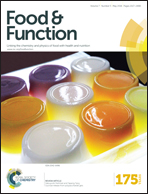 Food & Function
Linking the chemistry and physics of food with health and nutrition
Impact Factor
2.791
12 Issues per Year
Indexed in Medline
This is a recently announced journal and there are no issues available yet. Content will appear here shortly and will be freely available to all for a limited time.
Register for free access and email alerts
Food & Function - Information Point
Related news
Prizes and awards 2016 Across the scientific community, talented groups and individuals are shaping the future of the chemical sciences. For over 140 ...