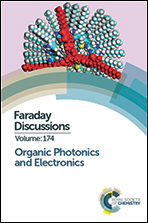 Faraday Discussions
Discussion summary and research papers from discussion meetings that focus on rapidly developing areas of chemistry
Impact Factor
4.194
Indexed in MEDLINE and Web of Science
Themed Collections

Most Read Articles
This is a recently announced journal and there are no issues available yet. Content will appear here shortly and will be freely available to all for a limited time.
Register for free access and email alerts
Faraday Discussions - Information Point
Related News
We are delighted to share with you a selection of the Accepted Manuscripts that will be discussed at the upcoming Faraday Discussions meeting on the t...
Here we present a collection of research papers, review articles, and themed collections published by the Royal Society of Chemistry, designed to answ...