Scheduled maintenance upgrade on Saturday 2nd of July 2016 from 11.30am to 3.00pm (BST)
During this time our websites will be offline temporarily. If you have any questions please use the feedback button on this page. We apologise for any inconvenience this might cause and thank you for your patience.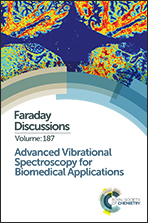 Faraday Discussions
Discussion summary and research papers from discussion meetings that focus on rapidly developing areas of chemistry
Impact Factor
4.606
Indexed in Medline and Web of Science
Prev
Pg 1 of 2
Next
Faraday Discussions,
25 October 2011 ,
Page 1 to 428
Faraday Discussions - Information Point
Citation velocity
Articles from this journal that are regularly and recently being cited by others. We are trialling this feature to see if it makes it quicker and easier for you to find articles for your research. Read more about how we have created this filtering system.