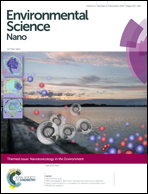 Environmental Science: Nano
Nanomaterial interactions with environmental & biological systems
Impact Factor
Pending
6 Issues per Year
Free access available
Advance Articles

|

Accepted Manuscripts

|

All Recent Articles
Prev
Pg 1 of 1
Next
Jessica Englehart, Bonnie Anne Lyon, Matthew Becker, Yonggang Wang, Linda Abriola and Kurt D Pennell
Environ. Sci.: Nano, 2015, Accepted Manuscript
DOI: 10.1039/C5EN00174A, Paper

Expand
Titanium dioxide nanoparticles (nTiO2) are utilized in an array of consumer products including paints, sunscreens, cosmetics, and food. These products typically contain stabilizing agents that may alter nTiO2 fate when...
Sean E. Lehman, Angie S. Morris, Paul S. Mueller, Aliasger K. Salem, Vicki H. Grassian and Sarah C. Larsen
Environ. Sci.: Nano, 2016, Advance Article
DOI: 10.1039/C5EN00179J, Paper

Expand
This work evaluates cytotoxicity for an array of silica nanomaterials and relates this back to surface-derived phenomena, primarily ROS-generation.
Xitong Liu and Kai Loon Chen
Expand
Adsorption of phosphate on chemical mechanical planarization nanoparticles can significantly impact the interactions between the nanoparticles and model cell membranes.
Kara M. Nell, Sean A. Fontenot, Timothy G. Carter, Marvin G. Warner, Cynthia L. Warner, R. Shane Addleman and Darren W. Johnson
Environ. Sci.: Nano, 2016, Advance Article
DOI: 10.1039/C5EN00170F, Paper

Expand
A non-covalent approach to functionalizing nanostructured materials with high-specificity ligands yields effective sorbents for capture of trace metal ions from water.
Mohan Basnet, Alexander Gershanov, Kevin J. Wilkinson, Subhasis Ghoshal and Nathalie Tufenkji
Environ. Sci.: Nano, 2016, Advance Article
DOI: 10.1039/C5EN00109A, Paper

Expand
Transport of reactive Pd-NZVI particles in subsurface environments is limited in the presence of biofilm on aquifer grains.
Stephen D. Ebbs, Scott J. Bradfield, Pawan Kumar, Jason C. White, Craig Musante and Xingmao Ma
Expand
The ionic forms of Zn, Cu, and Ce are transported into carrot taproots, while nanomaterial forms of ZnO, CuO, and CeO2 were largely screened by the taproot outer periderm layer.
Wenchao Wan, Ruiyang Zhang, Wei Li, Hao Liu, Yuanhua Lin, Lina Li and Ying Zhou
Environ. Sci.: Nano, 2016, Advance Article
DOI: 10.1039/C5EN00125K, Paper

Expand
Ultra-light graphene–CNT aerogels were successfully synthesized by a one-step hydrothermal method and exhibited excellent adsorption capacity to oil and dyes as well as reusability.
Wei Li, Dehong Chen, Fang Xia, Jeannie Z. Y. Tan, Pei-Pei Huang, Wei-Guo Song, Natalita M. Nursam and Rachel A. Caruso
Environ. Sci.: Nano, 2016, Advance Article
DOI: 10.1039/C5EN00171D, Paper

Expand
Mesoporous aluminium magnesium oxide composites exhibit extremely high adsorption capacities for As(V) and As(III) with excellent environmental adaptability and selectivity.
Wenlu Li, Carl H. Hinton, Seung Soo Lee, Jiewei Wu and John D. Fortner
Expand
This work describes the synthesis and characterization of a rational series of surface tailored superparamagnetic nanoparticles, which have broad potential as platform materials for advanced environmental imaging, sensing, and remediation technologies, among others.
Eric S. Melby, Arielle C. Mensch, Samuel E. Lohse, Dehong Hu, Galya Orr, Catherine J. Murphy, Robert J. Hamers and Joel A. Pedersen
Expand
Here we describe a method to form phase-segregated domain-containing supported lipid bilayers on silica substrates and demonstrate that the presence of these domains can alter nanoparticle interaction with bilayers.
Maria-Sophia Vidali, Eleni Bletsa, Antonios Kouloumpis, Charalambos G. Skoutelis, Yiannis Deligiannakis, Dimitrios Gournis and Dimitris Vlastos
Environ. Sci.: Nano, 2016, Advance Article
DOI: 10.1039/C5EN00138B, Paper

Expand
Mixtures of multi-walled carbon nanotubes with natural humic acids or humic acid-like polycondensates were evaluated, for the first time, about their potential genotoxic and cytotoxic effects in cultured human lymphocytes.
N. M. Anaya, F. Solomon and V. Oyanedel-Craver
Expand
Determination of Dy2O3 nanoparticles toxicity on Escherichia coli at different water chemistry and metabolic conditions. The results of this study provide strong evidence that Dy ions, released from the nanoparticles, are the main cause for impairing of the bacteria functions.
Vicki H. Grassian, Amanda J. Haes, Imali A. Mudunkotuwa, Philip Demokritou, Agnes B. Kane, Catherine J. Murphy, James E. Hutchison, Jacqueline A. Isaacs, Young-Shin Jun, Barbara Karn, Saiful I. Khondaker, Sarah C. Larsen, Boris L. T. Lau, John M. Pettibone, Omowunmi A. Sadik, Navid B. Saleh and Clayton Teague
Expand
Bridging knowledge gaps in NanoEHS by identifying current fundamental science challenges and research needs.
Environmental Science: Nano - Information Point