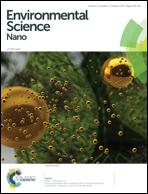 Environmental Science: Nano
Nanomaterial interactions with environmental & biological systems
Impact Factor
Pending
6 Issues per Year
Free access available
Advance Articles

|

Accepted Manuscripts

|

All Recent Articles
Prev
Pg 1 of 1
Next
Xiaomei Li, Kristin Schirmer, Laetitia Bernard, Laura Sigg, Smitha Pillai and Renata Behra
Expand
AgNPs are not internalized by the alga Euglena gracilis but adsorb onto the pellicle.
Eric S. Melby, Arielle C. Mensch, Samuel E. Lohse, Dehong Hu, Galya Orr, Catherine J. Murphy, Robert J. Hamers and Joel A. Pedersen
Environ. Sci.: Nano, 2015, Advance Article
DOI: 10.1039/C5EN00098J, Paper

Expand
Here we describe a method to form phase-segregated domain-containing supported lipid bilayers on silica substrates and demonstrate that the presence of these domains can alter nanoparticle interaction with bilayers.
Wenlu Li, Carl H Hinton, Seung Soo Lee, Jiewei Wu and John Fortner
Environ. Sci.: Nano, 2015, Accepted Manuscript
DOI: 10.1039/C5EN00089K, Paper

Expand
Engineered superparamagnetic nanoparticles (NPs) have broad potential in biotechnologies, high contrast magnetic resonance imaging, and advanced environmental sensing and remediation technologies, among others. For successful environmental, aqueous-based applications, particle stability...
Maria-Sophia Vidali, Eleni Bletsa, Antonios Kouloumpis, Charalambos G. Skoutelis, Yiannis Deligiannakis, Dimitrios Gournis and Dimitris Vlastos
Environ. Sci.: Nano, 2015, Advance Article
DOI: 10.1039/C5EN00138B, Paper

Expand
Mixtures of multi-walled carbon nanotubes with natural humic acids or humic acid-like polycondensates were evaluated, for the first time, about their potential genotoxic and cytotoxic effects in cultured human lymphocytes.
M. Tella, M. Auffan, L. Brousset, E. Morel, O. Proux, C. Chanéac, B. Angeletti, C. Pailles, E. Artells, C. Santaella, J. Rose, A. Thiéry and J.-Y. Bottero
Expand
Indoor aquatic mesocosms were designed to mimic pond ecosystems contaminated by a continuous point-source discharge of cerium oxide nanoparticles (CeO2-NPs).
Xiaojia He, Winfred G. Aker, Peter P. Fu and Huey-Min Hwang
Expand
This is a comprehensive review on the toxicity of metal oxide nanomaterials regarding their environmental interactions at the nano–bio–eco interface.
Steffi Böhme, Hans-Joachim Stärk, Thorsten Reemtsma and Dana Kühnel
Expand
Internal silver concentrations were determined and combined with toxicological information to obtain critical internal effect concentrations triggering biological responses.
N. M. Anaya, F. Solomon and V. Oyanedel-Craver
Expand
Determination of Dy2O3 nanoparticles toxicity on Escherichia coli at different water chemistry and metabolic conditions. The results of this study provide strong evidence that Dy ions, released from the nanoparticles, are the main cause for impairing of the bacteria functions.
Anjuliee M. Mittelman, John D. Fortner and Kurt D. Pennell
Expand
Nanomaterials are subject to various physical, chemical, and biological transformations, necessitating a better understanding of the impact of "aging" processes on nanoparticle fate and transport in engineered and natural porous media.
Vicki H. Grassian, Amanda J. Haes, Imali A. Mudunkotuwa, Philip Demokritou, Agnes B. Kane, Catherine J. Murphy, James E. Hutchison, Jacqueline A. Isaacs, Young-Shin Jun, Barbara Karn, Saiful I. Khondaker, Sarah C. Larsen, Boris L. T. Lau, John M. Pettibone, Omowunmi A. Sadik, Navid B. Saleh and Clayton Teague
Expand
Bridging knowledge gaps in NanoEHS by identifying current fundamental science challenges and research needs.
Leanne M. Gilbertson, Ben A. Wender, Julie B. Zimmerman and Matthew J. Eckelman
Environ. Sci.: Nano, 2015, Advance Article
DOI: 10.1039/C5EN00097A, Frontier

Expand
There is an opportunity to facilitate responsible nanotechnology research and development through improved collaboration between life cycle modeling and experimental efforts.
Villem Aruoja, Suman Pokhrel, Mariliis Sihtmäe, Monika Mortimer, Lutz Mädler and Anne Kahru
Expand
Common toxicity patterns emerge across toxicity tests with species from different trophic levels.
T. A. Qiu, J. S. Bozich, S. E. Lohse, A. M. Vartanian, L. M. Jacob, B. M. Meyer, I. L. Gunsolus, N. J. Niemuth, C. J. Murphy, C. L. Haynes and R. D. Klaper
Expand
Gene expression patterns indicate different impacts of charged nanoparticles across two model species.
Jonathan L. Falconer, Clinton F. Jones, Shan Lu and David W. Grainger
Expand
Carbon nanomaterials rescued zebrafish embryos from phenanthrene toxicity.
Environmental Science: Nano - Information Point