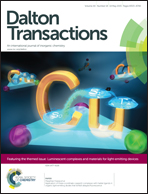 Dalton Transactions
The international journal for inorganic, organometallic and bioinorganic chemistry
Impact Factor
4.097
48 Issues per Year
Indexed in Medline
Themed Collections

Most Read Articles
This is a recently announced journal and there are no issues available yet. Content will appear here shortly and will be freely available to all for a limited time.
Register for free access and email alerts
Dalton Transactions - Information Point
Related news
A follow up to the IUPAC project on the somewhat controversial issue on terminology of metal-organic frameworks and coordination polymers deals with t...