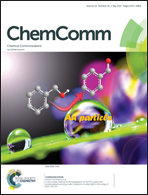 Chemical Communications
Urgent high quality communications from across the chemical sciences.
Advance Articles

|

Accepted Manuscripts

|

All Recent Articles
Chemical Communications - Information Point
Citation velocity
Articles from this journal that are regularly and recently being cited by others. We are trialling this feature to see if it makes it quicker and easier for you to find articles for your research. Read more about how we have created this filtering system.