Scheduled maintenance upgrade on Thursday, 18th of February from 10am to 12pm (GMT)
Please note that we will be performing a planned maintenance upgrade on Thursday 18th of February from 10am to 12pm Greenwich Mean Time. During this time you may experience an intermittent reduction in performance, with the possibility of our services being offline temporarily on our publishing platform . If you have any questions please use the feedback button on this page. We apologise for any inconvenience this might cause and thank you for your patience.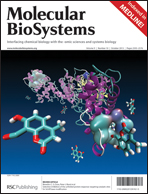 Research at the interface of chemistry and biology: chemical biology, -omics sciences and systems biology.
Impact Factor
3.21
12 Issues per Year
Indexed in Medline
Paper
The three-dimensional context of a double helix determines the fluorescence of the internucleoside-tethered pair of fluorophores
Valeri Metelev, Surong Zhang, David Tabatadze, Anand T. N. Kumar and Alexei Bogdanov, Jr.
Mol. BioSyst., 2013,9, 2447-2453
DOI: 10.1039/C3MB70108E
Received 16 Mar 2013, Accepted 09 Jul 2013
First published online 10 Jul 2013
Molecular BioSystems - Information Point