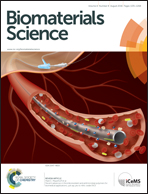 Biomaterials Science
Biomaterials Science is an international high impact journal exploring the underlying science behind the function, interactions and design of biomaterials
Impact Factor
3.614
12 Issues per Year
Indexed in Medline
Advance Articles

|

Accepted Manuscripts

|

All Recent Articles
Prev
Pg 1 of 1
Next
Moamen Hammad, Wei Rao, James G. W. Smith, Daniel G. Anderson, Robert Langer, Lorraine E. Young, David A. Barrett, Martyn C. Davies, Chris Denning and Morgan R. Alexander
Biomater. Sci., 2016, Advance Article
DOI: 10.1039/C6BM00214E, Paper

Expand
The discovery of heat shock proteins as candidates for human pluripotent stem cell culture using high throughput screening.
So Yeon Lee, Kyoung-Ran Kim, Duhee Bang, Se Won Bae, Hak Joong Kim and Dae-Ro Ahn
Biomater. Sci., 2016, Advance Article
DOI: 10.1039/C6BM00296J, Communication

Expand
The size of DNA nanoparticles produced by rolling circle amplification (RCA) can be controlled by incorporation of structure-forming sequences and amine-modified nucleotides in the replication part.
Gulistan Tansik, Erden Kilic, Mustafa Beter, Bahtiyar Demiralp, Gullu Kiziltas Sendur, Nuray Can, Huseyin Ozkan, Elif Ergul, Mustafa O. Guler and Ayse B. Tekinay
Biomater. Sci., 2016, Advance Article
DOI: 10.1039/C6BM00179C, Paper

Expand
The self-assembling injectable bioactive peptide nanofibers have a potential therapeutic effect for acceleration of healing of bone defects.
Yifeng Peng, Liane E. Tellier and Johnna S. Temenoff
Biomater. Sci., 2016, Advance Article
DOI: 10.1039/C6BM00455E, Paper

Expand
Heparin-based hydrogels enable tunable and linear release kinetics of the anti-inflammatory small molecule, crystal violet.
Israel Gonzalez de Torre, Miriam Weber, Luis Quintanilla, Matilde Alonso, Stefan Jockenhoevel, José Carlos Rodríguez Cabello and Petra Mela
Biomater. Sci., 2016, Advance Article
DOI: 10.1039/C6BM00300A, Paper

Expand
In the field of tissue engineering, the properties of the scaffolds are of crucial importance for the success of the application.
Oommen P. Varghese, Jianping Liu, Karthi Sundaram, Jöns Hilborn and Oommen P. Oommen
Biomater. Sci., 2016, Advance Article
DOI: 10.1039/C6BM00335D, Communication

Expand
Glycosaminoglycan derived nanoparticles are a promising delivery system owing to their unique tumour targeting ability.
L. R. Stevens, K. J. Gilmore, G. G. Wallace and M. in het Panhuis
Expand
A review of current research into the emerging polysaccharide gellan gum, highlighting its potential in tissue engineering.
Jing Wang, Shanmei Yuan, Yajun Zhang, Wei Wu, Yong Hu and Xiqun Jiang
Biomater. Sci., 2016, Advance Article
DOI: 10.1039/C6BM00201C, Paper

Expand
Zwitterionic poly(carboxybetaine) (PCB), poly(2-methacryloyloxyethyl phosphorylcholine) (PMPC) and nonionic poly(ethylene glycol) (PEG), which have similar degrees of polymerization, were grafted to branched polyethyleneimine (PEI) to generate PCB-grafted PEI (PEI-PCB), PMPC-grafted PEI (PEI-PMPC) and PEG-grafted PEI (PEI-PEG) copolymers, respectively.
Raj Kumar Thapa, Ju Yeon Choi, Biki Gupta, Thiruganesh Ramasamy, Bijay Kumar Poudel, Sae Kwang Ku, Yu Seok Youn, Han Gon Choi, Chul Soon Yong and Jong Oh Kim
Biomater. Sci., 2016, Advance Article
DOI: 10.1039/C6BM00376A, Paper

Expand
Dual drug-loaded liquid crystalline nanoparticles for targeted therapy of metastatic breast cancer.
Edward D. H. Mansfield, Victor R. de la Rosa, Radoslaw M. Kowalczyk, Isabelle Grillo, Richard Hoogenboom, Katy Sillence, Patrick Hole, Adrian C. Williams and Vitaliy V. Khutoryanskiy
Expand
Functionalised nanomaterials are useful as drug delivery vehicles and, in particular, mucus penetrating nanoparticles may improve drug bioavailability via the oral route.
Biomaterials Science - Information Point
Citation velocity
Articles from this journal that are regularly and recently being cited by others. We are trialling this feature to see if it makes it quicker and easier for you to find articles for your research. Read more about how we have created this filtering system.