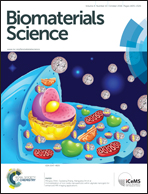 Biomaterials Science
Biomaterials Science is an international high impact journal exploring the underlying science behind the function, interactions and design of biomaterials
Impact Factor
3.614
12 Issues per Year
Indexed in Medline
Advance Articles

|

Accepted Manuscripts

|

All Recent Articles
Prev
Pg 1 of 1
Next
Richard De Mets, Katharina Hennig, Lionel Bureau and Martial Balland
Biomater. Sci., 2016, Advance Article
DOI: 10.1039/C6BM00364H, Paper

Expand
We present a method to create protein micropatterns onto polyacrylamide hydrogels, in order to control the adhesive confinement of cells in traction force microscopy experiments. The technique is based on patterned polymer brushes that serve as molds that can be re-used without repeating microfabrication steps.
V. Malheiro, F. Lehner, V. Dinca, P. Hoffmann and K. Maniura-Weber
Biomater. Sci., 2016, Advance Article
DOI: 10.1039/C6BM00425C, Paper

Expand
The typical foreign body response (FBR) to synthetic implants is characterized by local inflammation and tissue fibrosis.
Zhijuan Xiong, Yue Wang, Jingyi Zhu, Yao He, Jiao Qu, Christiane Effenberg, Jindong Xia, Dietmar Appelhans and Xiangyang Shi
Biomater. Sci., 2016, Advance Article
DOI: 10.1039/C6BM00532B, Paper

Expand
Gd-Chelated fourth generation poly(propylene imine) dendrimers with densely organized maltose shells can be designed for enhanced MR imaging applications.
C. Kohn, J. M. Klemens, C. Kascholke, N. S. Murthy, J. Kohn, M. Brandenburger and M. C. Hacker
Biomater. Sci., 2016, Advance Article
DOI: 10.1039/C6BM00397D, Paper

Expand
Toward a new generation of improved nerve guidance conduits (NGCs), novel biomaterials are required to address pressing clinical shortcomings in peripheral nerve regeneration (PNR) and to promote biological performance.
Arti Vashist, Ajeet Kaushik, Atul Vashist, Rahul Dev Jayant, Asahi Tomitaka, Sharif Ahmad, Y. K. Gupta and Madhavan Nair
Expand
Hydrogel based drug delivery systems owe excellent potential as targeted drug delivery systems for the delivery of therapeutic agents and diagnostics for major infectious diseases.
Marcela Martin-del-Campo, Raul Rosales-Ibañez, Keila Alvarado, Jose G. Sampedro, Christian A. Garcia-Sepulveda, Sanjukta Deb, Julio San Román and Luis Rojo
Biomater. Sci., 2016, Advance Article
DOI: 10.1039/C6BM00459H, Paper

Expand
Strontium folate loaded biohybrid scaffolds enhance dental pulp stem cells replication and differentiation, promoting complete regeneration of critical bone defects.
D. Jhala, H. Rather and R. Vasita
Biomater. Sci., 2016, Advance Article
DOI: 10.1039/C6BM00492J, Paper

Expand
Bone ECM mimicking ultrafine nanofibers induce osteogenic differentiation in MC3T3-E1 preosteoblasts without any biological supplements via cell morphological changes.
Meng Wang, Yuanman Yu, Kai Dai, Zhengyu Ma, Yang Liu, Jing Wang and Changsheng Liu
Biomater. Sci., 2016, Advance Article
DOI: 10.1039/C6BM00290K, Paper

Expand
Magnesium-doped calcium phosphate cement is able to down-regulate pro-inflammatory responses and the immunomodulation further assists in both osteogenesis of BMSCs and angiogenesis of HUVECs in vitro.
Nanying Li, Juqing Song, Guanglin Zhu, Xiaoyu Li, Lei Liu, Xuetao Shi and Yingjun Wang
Expand
As always, the clinical therapy of critical size bone defects caused by trauma, tumor removal surgery or congenital malformation is facing great challenges.
Biomaterials Science - Information Point
Citation velocity
Articles from this journal that are regularly and recently being cited by others. We are trialling this feature to see if it makes it quicker and easier for you to find articles for your research. Read more about how we have created this filtering system.