Scheduled maintenance upgrade on Saturday 2nd of July 2016 from 11.30am to 3.00pm (BST)
During this time our websites will be offline temporarily. If you have any questions please use the feedback button on this page. We apologise for any inconvenience this might cause and thank you for your patience.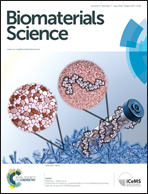 Biomaterials Science
Biomaterials Science is an international high impact journal exploring the underlying science behind the function, interactions and design of biomaterials
Impact Factor
3.614
12 Issues per Year
Indexed in Medline
Advance Articles

|

Accepted Manuscripts

|

All Recent Articles
Prev
Pg 1 of 1
Next
Wenzhen Liao, Wen Li, Tiantian Zhang, Micheal Kirberger, Jun Liu, Pei Wang, Wei Chen and Yong Wang
Biomater. Sci., 2016, Advance Article
DOI: 10.1039/C6BM90031C, Correction

Expand
Haidong Zhou, Gangxiang Wang, Yiyun Lu and Zhijun Pan
Biomater. Sci., 2016, Advance Article
DOI: 10.1039/C6BM00331A, Paper

Expand
Cisplatin nanocarriers with zwitterionic phosphorylcholine corona were developed for osteosarcoma treatment.
L. Jennings, O. Ivashchenko, I. J. C. Marsman, A. C. Laan, A. G. Denkova, G. Waton, F. J. Beekman, F. Schosseler and E. Mendes
Biomater. Sci., 2016, Advance Article
DOI: 10.1039/C6BM00297H, Paper

Expand
Longitudinal in vivo study of the biodistribution and circulation time of 111In labelled spherical and elongated micelles by SPECT.
Yaqi Wo, Elizabeth J. Brisbois, Robert H. Bartlett and Mark E. Meyerhoff
Expand
Potential biomedical applications of nitric oxide (NO) releasing polymers.
Young-Jin Kim, Seiichiro Yamamoto, Haruko Takahashi, Naruo Sasaki and Yukiko T. Matsunaga
Biomater. Sci., 2016, Advance Article
DOI: 10.1039/C6BM00292G, Communication

Expand
Biomimetic bundled fibre: Multiwalled carbon nanotube (MWCNT) reinforced bundled gel fibre is reported to obtain a cell culture scaffold with enhanced mechanical and electrical properties.
Alexis Goulet-Hanssens, Margaret H. Magdesian, G. Monserratt Lopez-Ayon, Peter Grutter and Christopher J. Barrett
Biomater. Sci., 2016, Advance Article
DOI: 10.1039/C6BM00168H, Communication

Expand
Coated beads retain great importance in the study of cell adhesion and intracellular communication; we present a generally applicable method permitting spatiotemporal control of bead adhesion from cells.
Expand
Glycan-decorated biomaterials binding lectins are applied in bioimaging, targeted drug delivery, diagnostic and analytic methods. They comprise glycosylated nanoparticles, quantum dots, glycoarrays, glycopolymer clusters, micelles, and scaffolds based on aromatic, calixarene cores, glycopeptides or polysaccharides.
Biomaterials Science - Information Point
Citation velocity
Articles from this journal that are regularly and recently being cited by others. We are trialling this feature to see if it makes it quicker and easier for you to find articles for your research. Read more about how we have created this filtering system.