Scheduled maintenance upgrade on Saturday 2nd of July 2016 from 11.30am to 3.00pm (BST)
During this time our websites will be offline temporarily. If you have any questions please use the feedback button on this page. We apologise for any inconvenience this might cause and thank you for your patience.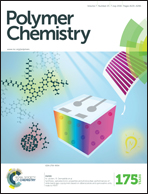 Polymer Chemistry
The home for the most innovative and exciting polymer chemistry, with an emphasis on polymer synthesis and applications thereof
Impact Factor
5.687
48 Issues per Year
This is a recently announced journal and there are no issues available yet. Content will appear here shortly and will be freely available to all for a limited time.
Register for free access and email alerts
Polymer Chemistry - Information Point