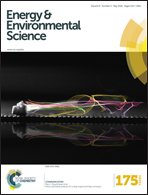 Energy & Environmental Science
A journal linking all aspects of the chemical, physical and biotechnological sciences relating to energy conversion and storage, alternative fuel technologies and environmental science.
Impact Factor
20.523
12 Issues per Year
Indexed in Web of Science
This is a recently announced journal and there are no issues available yet. Content will appear here shortly and will be freely available to all for a limited time.
Register for free access and email alerts
Energy & Environmental Science - Information Point