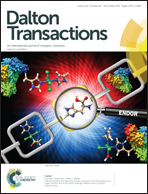 Dalton Transactions
The international journal for inorganic, organometallic and bioinorganic chemistry
Impact Factor
4.197
48 Issues per Year
Indexed in Medline
This is a recently announced journal and there are no issues available yet. Content will appear here shortly and will be freely available to all for a limited time.
Register for free access and email alerts
Dalton Transactions - Information Point
Related news
Materials Horizons would like to congratulate the prize winners from the 6 th EuChemS conference on Nitrogen Ligands which took place in Beaune, Franc...
To me the most interesting observation in the recent Dalton Transactions paper from the group of Professor Phil Power was their suggestion that second...