Scheduled maintenance upgrade on Thursday, 18th of February from 10am to 12pm (GMT)
Please note that we will be performing a planned maintenance upgrade on Thursday 18th of February from 10am to 12pm Greenwich Mean Time. During this time you may experience an intermittent reduction in performance, with the possibility of our services being offline temporarily on our publishing platform . If you have any questions please use the feedback button on this page. We apologise for any inconvenience this might cause and thank you for your patience.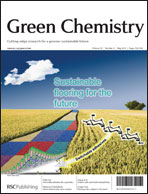 The home of cutting-edge research on the development of alternative sustainable technologies.
Impact Factor
8.02
12 Issues per Year
Indexed in Web of Science
Paper
Acetalisation of bio-glycerol with acetone to produce solketal over sulfonic mesostructured silicas
Gemma Vicente, Juan A. Melero, Gabriel Morales, Marta Paniagua and Eric Martín
Green Chem., 2010,12, 899-907
DOI: 10.1039/B923681C
Received 13 Nov 2009, Accepted 19 Feb 2010
First published online 22 Mar 2010
Cited by

Compounds

Related Content

Metrics
This may take some time to load.
Green Chemistry - Information Point