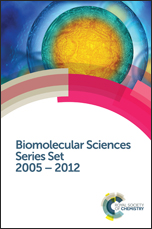 Biomolecular Sciences Series Set
A collection of books edited and written by leading international scientists working in the field, the RSC Biomolecular Sciences Set provides an authoritative and definitive collection of reference guides for graduate and postgraduate students and researchers in biochemisty, biophysics and molecular biology. Topics covered are diverse and include structural biology, chemical biology, bio- and chemo-informatics, drug discovery and development, chemical enzymology and biophysical chemistry.
Publication details
Publication date: 26 Jun 2015
Print ISBN: 978-1-78262-569-8
Print format: Hardback
Copyright: 2015
List of books in this set
* All prices are exclusive of taxes.