>
}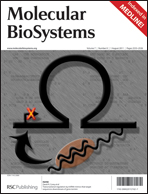 Research at the interface of chemistry and biology: chemical biology, -omics sciences and systems biology.
Paper
Influencing uptake and localization of aminoglycoside-functionalized peptoids
Melissa M. Lee, Jonathan M. French and Matthew D. Disney
Mol. BioSyst., 2011,7, 2441-2451
DOI: 10.1039/C1MB05074E
Received 24 Feb 2011, Accepted 04 May 2011
First published online 24 May 2011
Cited by

Compounds

Related Content

Metrics
This may take some time to load.
Molecular BioSystems - Information Point